"In 2014 after 2 unsuccessful attempts at swimming the English Channel I met Johnny at Teddington Pilates. First he set about sorting out my hip injury from being pulled out the water unconscious. Then we started the process of making me stronger and more flexible to have another crack at it in 2015. It did involve rather a lot of glute exercises we all know and love!
His experience with performers and other sports people was invaluable when in July we had another attempt which lasted only 4 hours because the weather turned foul and it was thought wiser to walk away from this one and come back when mother nature was in a better mood.
As we know the weather this year [2015]  has been dreadful and it wasn't until October I got another chance to try. Through that time Johnny helped me to stay focused, but most importantly calm, with his mental mastery coaching, it was a serious test of nerves.
We did it, Thursday 8th October 2015 after 15 hours in the water I completed my dream of swimming the English Channel.
My heartfelt thanks goes to Johnny who literally kept body and soul together over a very trying time."
Sue Croft 
(MSc (paed Ost) BSc BA FSMT Registered Osteopath and Channel swimmer)
"If you have had an injury or have skeletal wear & tear problems then Tessa Smalley is the Pilates Instructor you are looking for. I joined her remedial class 11 years ago after breaking both wrists and with a very old back problem. I soon gained a much stronger back,better core stability and much improved posture.Tessa has years of teaching experience and a great ability to impart her knowledge. Her eagle eyes never miss a wrong move! I'm hooked on Tessa's Pilates class now as it makes all movement feel easy and comfortable."
Jacky Beamand, Weybridge.
"Following the birth of my first son my back was in a lot of pain. I had a combination of an already existing large abdominal hernia, a caesarean section and I was breast-feeding whilst constantly lifting and carrying a baby. There was a point at which I could hardly walk. A whole series of chiropractic treatments did alleviate it although I still had to be careful and I did have relapses.
A couple of years later I did pilates regularly for a year and couldn't believe how much stronger my body became. Then I became pregnant with twins. Throughout the pregnancy and after the birth I didn't suffer from any back pain. I know that without the pilates it would have been very different. I have now returned to doing regular pilates which has not only made me stronger but helps me renew my overall strength which I need with 3 small boys. Thanks to Johnny who every week seems to know exactly what I need to stay on track physically and mentally. "
Sam Wolfson
"Through a combination of patience, enthusiasm and good humour backed up with technical expertise at the highest level - never have difficult concepts been explained so clearly - Nikki and John, through excellent instruction, have made me stronger, fitter, healthier and, crucially, more aware of how my body works and what I need to do to look after it.
It would not be too fanciful to say that they have improved and enhanced the quality of my life.
They are worth every penny and I can't recommend them too highly."
Paul Johnston
"Orchestral conducting is physically very demanding, and staying fit is a crucial part of the job. I have been fortunate to have John's guidance over the past few years, and his skilled eye and great knowledge of the workings of the body have been invaluable."
Barry Wordsworth
(Music Director, Royal Ballet)
"Working as a researcher and consultant, I'm keen to make the most of sessions within a time-pressured schedule, & scrutinise the service I get!
I cannot fault Johnny's work in any way. I am always impressed with his articulacy desire to help clients to understand how their body works (or not, as the case may be!). This is refreshing when it can often feel that you're kept in the dark & shunted along a production line. Johnny's approach empowers clients to be more in control & proactive when it comes to their own wellbeing so that, ultimately, you're building a long-term solution, rather than simply attending a series of sessions.
Across all of this, Johnny achieves the perfect balance between an approachable, light-hearted & empathetic approach, while also conveying a professionalism & expertise that generates unquestionable reassurance and respect.
If you're of the school that likes to be disengaged from what's going with your body & hand yourself over to a silent, old-school practitioner, Johnny won't be for you. To everyone else, I'd recommend him in a heartbeat."
Denise Hicks
"I have learned that whilst aging is an irreversible fact of life, feeling old is not.  For me, Pilates has been an excellent form of exercise to restore my core strength and flexibility, things I took for granted in my more active youth.  After two years of Pilates I feel fit and injury free.  I have benefited from this feeling in numerous ways – general feeling of wellbeing, confidence, active hobbies including skiing and scuba diving and positive outlook that with Pilates I can enjoy my remaining years hopefully active and pain free."
Dr Adrian Cree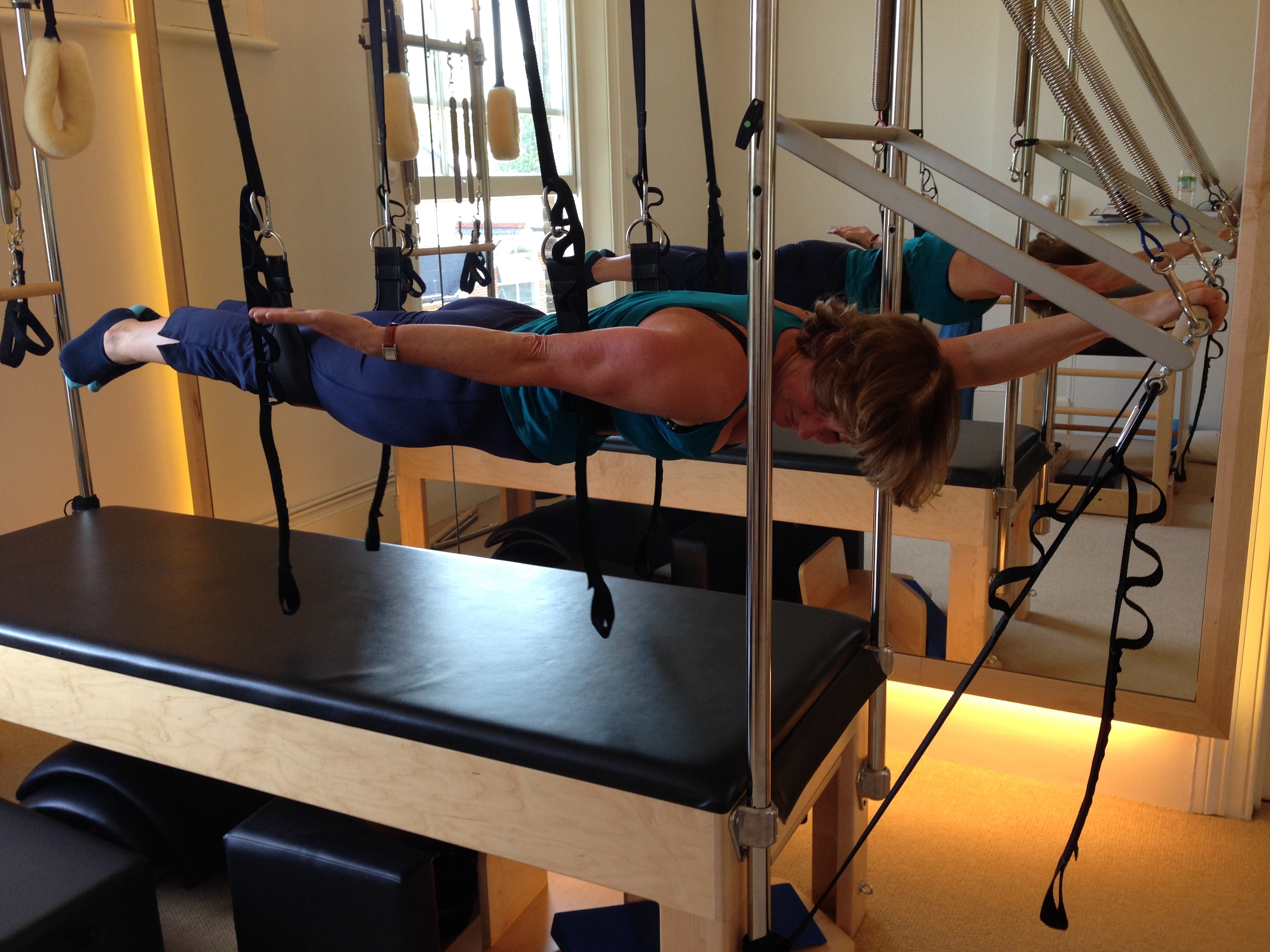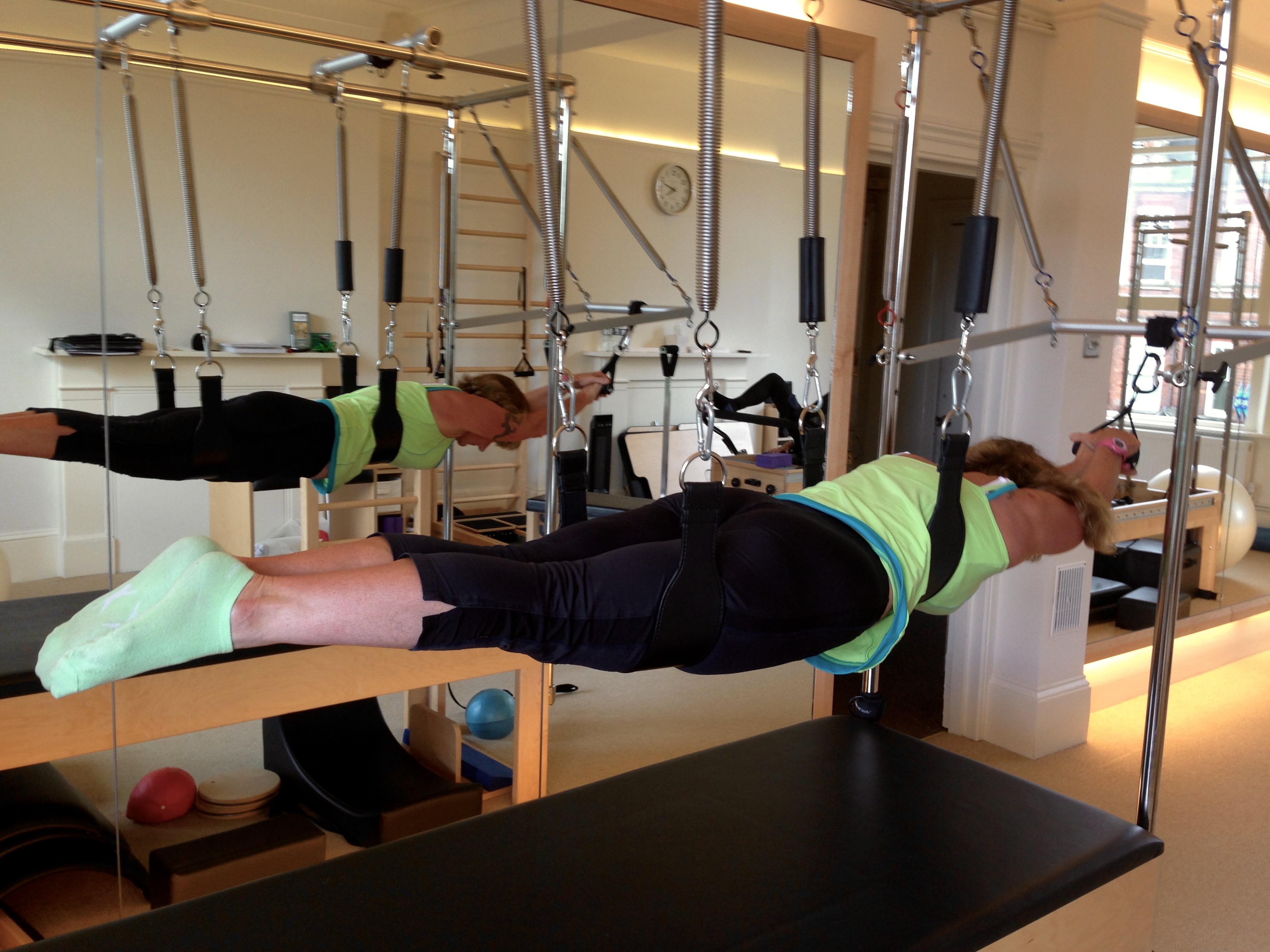 Sue Croft Training training and conditioning for her succesful English Channel swim
Teddington Pilates truly is a centre of excellence and is unique.
Located in the heart of Teddington, South West London in an impressive purposely created, fully equipped Pilates studio, offering bespoke individual instruction on specialised Pilates machines with expert instructors.
We are not only experienced at helping individuals with their sporting and fitness requirements; we are a highly experienced and superbly equipped centre offering clinical and remedial Pilates and exercises, assisting in rehabilitation of minor to major injuries and operations; pre and post natal rehabilitation.
We help sports people from swimmers to cyclist & rowers to runners develop their potential, helping you with Sport Fitness & general life fitness.
We develop exercise countermeasures and exercise equipment for astronauts on long duration space missions and have been awarded UK Space Agency's Space Technology Development Grant to prepare HIFIm (High Frequency Impulse for Microgravity) for parabolic test flights with the European Astronaut Centre and European Space Agency. HIFIm
"Without Johnny's expertise in injury management I would not be following my passion to be the best 800/1500m track athlete I can be. Middle distance running is unique in that you need to have the speed and power of a sprinter and endurance of a long distance runner. The intensity and mileage for this can get very demanding and injury is inevitable if you cross the fine line of overtraining. Johnny has helped guide me through a number of challenging injuries and attending Pilates regularly has helped me to develop the correct biomechanics, strength and flexibility I need to cope with high training demands. My performance has improved massively and I am very grateful for all his hard work."
Naomi Lenane
"I have been attending Pilates classes with Tessa for over 12 years.  As an ex competitive ice skater I have had numerous injuries and Tessa has been helpful in every way.  I have had many one to one sessions with her and she has devised a programme to help with the injuries.  I have been able to put off having a knee operation thanks to Tessa's regime.  I have been diagnosed with Osteoarthritis and the consultant was very happy that I attend regular Pilates classes.  I feel very safe in her hands and never worry that the exercises I am given will be detrimental to my wellbeing as she monitors us all very closely to ensure we are doing everything correctly.  I feel extremely lucky to have found such a dedicated and knowledgeable instructor. 


Tessa very kindly helped my daughter who is a British Champion Ice Skater and did work with her leading up to major competitions. She helped with her core stability and flexibility, as well as a couple of injuries that she had sustained during falls. 


I would recommend Tessa to anyone who wants a proper experienced Pilates Teacher." 




Sally Morris 
"It is my great pleasure to make note of my experience with Johnny Kennett, who has instructed me in Pilates for the past several months.

I have had frequently-recurring, very intense knee pain since my university days 35 years ago. After a lifetime of failed therapy, exploratory surgery and medication, I long ago resigned myself to conflicting tentative diagnoses, limited activity, frequent discomfort, and occasional excruciating draining of the joints when they became too swollen to bend. Both knees have been involved, though usually one at a time.

I have seen personal trainers thrice-weekly for much of the last 20 years, though I recently stopped in order to try Pilates instead. Most of my old trainers recommended strengthening certain muscles around the knee, and gave me exercises for it, but very little relief ever came about. Indeed, some of the exercises did more harm.


Then came Johnny. He quickly agreed that muscle-strengthening, and improved walking motions, could be of help. However, this time - for the first time in my life - I was given a program which within two months had relieved 90% of my knee problems. In the subsequent six months, I have not had a single recurrence of knee pain (apart from one foolish gardening-enduced episode).


Needless to say, I am dumbfounded by this success. the exercises are unsettlingly EASY and gentle. I was entirely sceptical that such modest effort, however focussed it might be, could possibly do much good. And yet, I no longer dread stairs, and I've gone off my permanent diet of Naproxen (and Omeprazole, its necessary stomach-protective partner drug).


I have to say that I would be enjoying the Pilates classes even without such dramatic results. I feel better in other, subtler ways as well, and learned a great deal about physical movement both good and bad. Johnny is an engaging, inspiring teacher - extremely knowledgable, highly articulate, and profoundly committed to his work. Learning form him has been a real joy."



Gary Gunas
"Johnny Kennett is an expert in this field, a natural-born teacher, and a warm generous human being. Week after week, I am impressed by his skills. His Pilates work is therapeutic in the best ways: curative and preventative, effective and empowering. And, in amongst all the serious stuff, phew! A sense of humour."




Elise Valmorbida
(Communications consultant)
"As I walked in through the front door I was greeted by John E Kennett, who is described by big names in dance and sports as a guru. This was justified when, during my postural assessment and treatment, he picked up on imbalances in my body that an osteopath recently missed.
Have your medical history on the tip of your tongue as you'll be quizzed and the more information you give the more beneficial your treatment will be. Kennett's masterful knowledge of anatomy is matched by his ability to apply your body to the various machines, fitting the purpose of your treatment. With the accuracy of a Royal Marine and his rifle, he targets the exact muscle fibres needed to regain muscular balance.
Conclusion? If you've been released from the 'care' of the NHS and feel you want your body to function more efficiently; have chronic pain or dysfunction that nobody else can seem to fix; if you're a keen runner and are looking to improve the efficiency of your running gait to knock minutes off your 10km or if you're a golfer and want to hit the ball further, book yourself in with John E Kennett."
Phil McDougall
(Fitness expert, writing for London Confidential)
"I am an experienced Pilates teacher, but despite that, I had been unable to stabilize my knee properly following knee replacement surgery. 
Remarkably, because of his unusual mixture of knowledge, skill and the great care he takes with his clients he was able to help me do the job and release me from persistent pain, within a few months  This enabled me to speed up my rehabilitation not just from my knee surgery but serious abdominal surgery.
I am still a regular at Teddington Pilates where I find Johnny continues to be a constant help to my thinking in ways to improve my Pilates.
Quite remarkable and thoroughly recommended."
Gill Owen